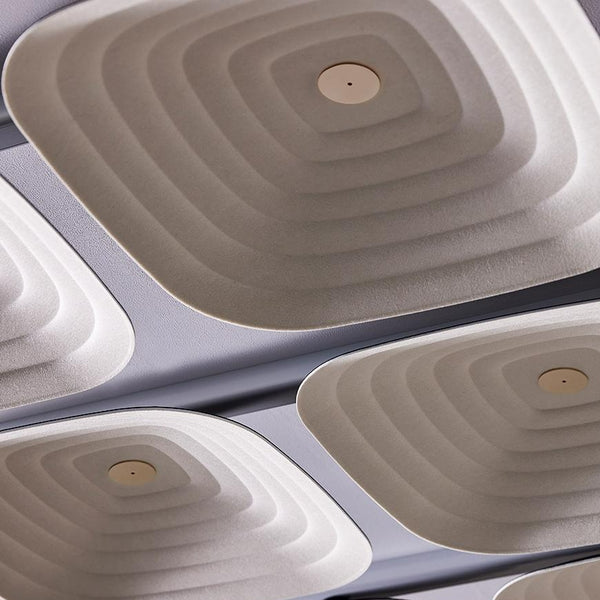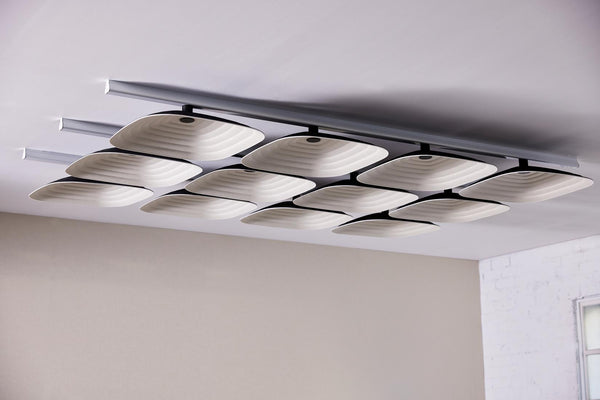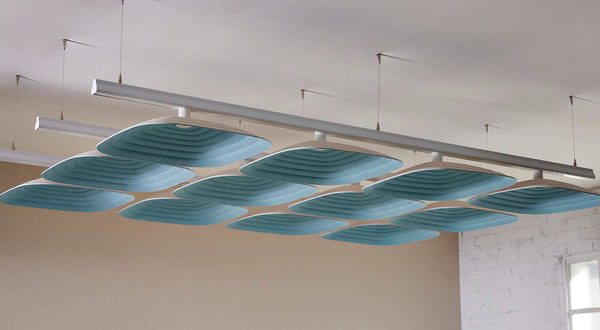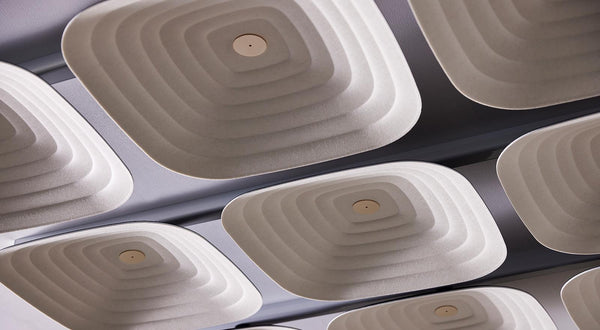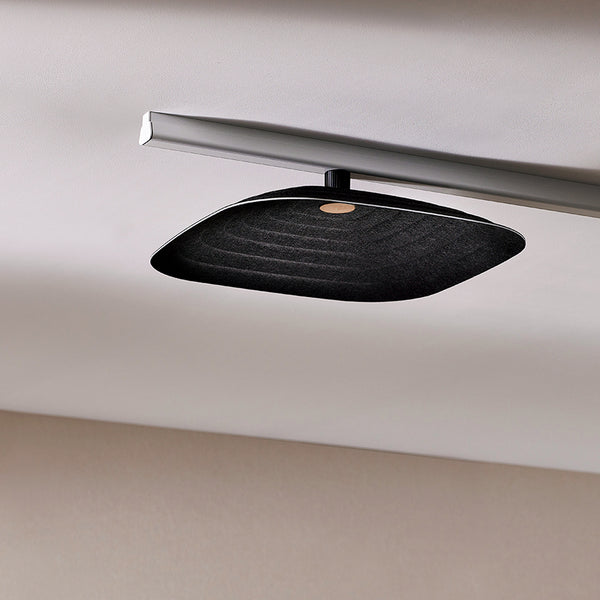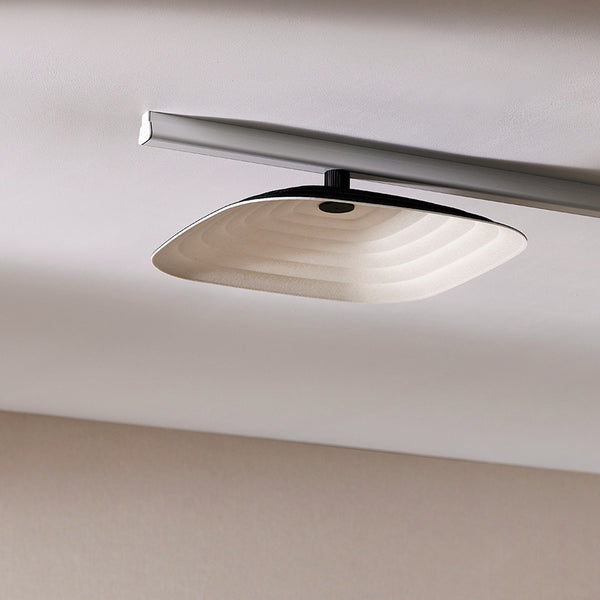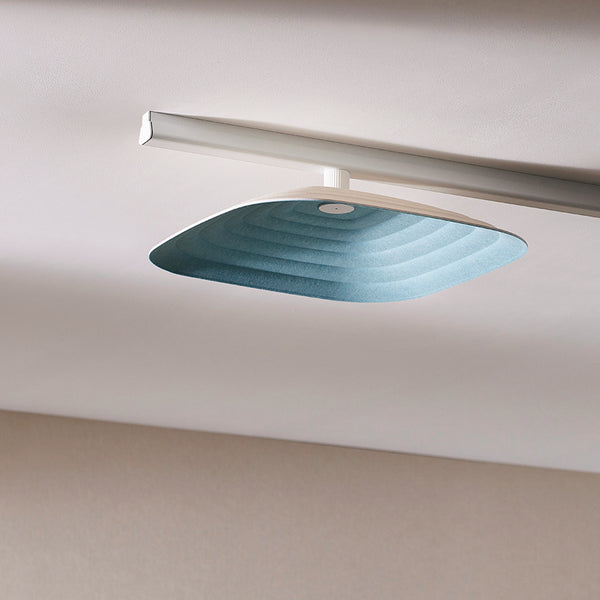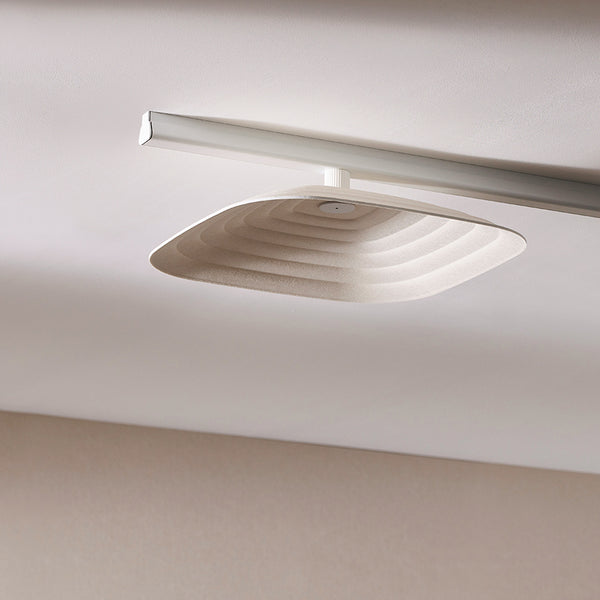 Fuji Roku - Woven Image
Lead Time: 2-4 weeks
Roku is the smallest square-shaped 3D acoustic tile in the Fuji range, inspired by modern japonisme alongside art deco trends.

Using the Array ceiling hardware, Juni can be directly fixed to the ceiling or suspended in varying configurations of number, spacing, tile size, colourway (including dual colour), barrel kit finishes and suspension height. Tiles are made from 100% PET (64% recycled). 

Fuji Ceiling Tiles can be direct fixed or suspended using Woven Images' Array hardware. The Fuji tiles attach to the hardware using the beautifully designed barrel kits which are available in three different colours (black/black, white/white and black /gold). 

Dimensions: Length: 560mm (+/- 3mm), Width: 560mm (+/- 3mm), Depth: 90mm (+/- 3mm), Thickness: 4.6 (+/- 2mm)

Kit & Box Content Box Contents:
4x Fuji Tiles & 8x Barrel Kits (available in 3 colours) Quantity in Box 4

Composition:
Fuji Tile 100% PET (64% post-consumer recycled)

Fire Test Results:
BS EN 13501.1: Classification B - s1, d0
ISO 9705: Group 2
GB 8624 B1
ASTM E84 Unadhered: Class 1 or A

Sound Absorption Test Method:
AS ISO 11654: 2002 (2016)
AS ISO 354: 2006 (R2016)
ASTM C423 - 17

Equivalent Absorption Area (Aeq) in m² Sabins:
Without perimeter: 125Hz = 0.64m², 250Hz = 4.75m², 500Hz = 8.74m², 1000Hz = 9.07m², 2000Hz = 8.31m², 4000 = 9.82m² 
Weighted Alpha Coefficient (αw): With Perimeter: 0.75, Without Perimeter: 0.70
Sound Absorption Average (SAA): With Perimeter: 0.72, Without Perimeter: 0.68
Noise Reduction Coefficient (NRC): With Perimeter: 0.70, Without Perimeter: 0.65
SA Contribution:

SUPPLY, DELIVER & INSTALL
We are focused on supporting local manufacturing companies. This means we supply our furniture without packaging which is great for the environment but not great for shipping to locations outside our local area. Online orders can only be delivered to the Adelaide metro area. You will need to contact us directly to arrange shipping outside of the Adelaide Metro area. Please refer to the Shipping & Returns page for further information.
This item is produced specifically for your order. Please ensure you select carefully as we do not provide refunds if you change your mind.
We have made every effort to display as accurately as possible the colours and images of our products that appear at the store. We cannot guarantee that your computer monitor's display of any colour will be accurate.
Contact us for custom options or finishes not available online and deliveries outside the Adelaide metro area.